welcome to
The home of
fine english cakes
ABOUT US
We supply the finest English cakes to the international luxury food market.
In England everything stops for tea, and traditionally cake is served. We believe a classic English cake is one of the world's great culinary inventions. Our mission is to bring these delicacies to food lovers all over the world, as fresh as the day they were baked.
We select the most quintessential English cake recipes, perfect every detail, bake the cakes in a modern factory, pack them in their own elegant tins, and then ship them to wherever there are cake aficionados waiting for their favourite English delicacy. Our company is based in the heart of England in the small historic town of Bradford on Avon, surrounded by rolling hills
and green fields.
About our cakes

READY TO EAT
Each cake is handmade, placed in a paper liner and baked in its own tin. It is then vacuum-sealed, capturing all its flavour, aroma and freshness. The cake remains deliciously soft, moist and springy, fresh as the day it was baked. Ready to be enjoyed anywhere in the world.
LONG SHELF-LIFE
Vacuum-packing in the tin provides a long shelf life (24 months) whatever the climatic conditions encountered on its journey to market. The tin also gives strong protection during shipping, storage and final delivery. After opening, the cake will remain in good condition for at least 14 days if stored in a cool, dry place.
RETAIL MARKET
Ideal for premium retailers, department stores, online shops, hampers and the gift trade.
OUR PRODUCTS
Buckingham® specialise in ready-to-eat, traditional English cakes, baked to classic recipes. Distinctively packaged for long shelf-life and strong gift appeal.
the classic English Fruit Cake
England's famous and most traditional cake. Packed with juicy sultanas, currants, raisins, tangy mixed peel, sumptuous glacé cherries and a pinch of spice. Hand made, in the heart of England to the original Buckingham® recipe. This is proper old-fashioned fruit cake.
Packaging: Vacuum-sealed tin with ring-pull, packed inside attractive presentation box for maximum gift-appeal.
Pack Sizes: 6 x 280g, 6 x 700g
Storage: Ambient
Shelf-life: 24 months
Recipe: Pure butter. 45% fruit. No artificial colours or flavours.
Suitable for Vegetarians
the luxury edition
Our premium range of five very superior fruit cakes.
The classic Buckingham® recipe flavoured with selected spirits and liqueurs.
Under exclusive licence from some of the world's most famous drinks brands.
Classic English Fruit Cake flavoured with
Courvoisier® VS Cognac
Packaging: Vacuum-sealed tin with ring-pull, packed inside elegant gift box.
Pack Sizes: 6 x 280g, 6 x 700g
Storage: Ambient
Shelf-life: 24 months
Recipe: Pure butter. Over 45% fruit.
No artificial colours or flavours.

Classic English Fruit cake flavoured with
The Famous Grouse® Scottish Whisky
Packaging: Vacuum-sealed tin with ring-pull, packed inside elegant gift box.
Pack Sizes: 6 x 280g, 6 x 700g
Storage: Ambient
Shelf-life: 24 months
Recipe: Pure butter. Over 45% fruit.
No artificial colours or flavours.

Classic English Fruit Cake flavoured with
Amaretto Liqueur
Packaging: Vacuum-sealed tin with ring-pull, packed inside elegant gift box.
Pack Sizes: 6 x 280g, 6 x 700g
Storage: Ambient
Shelf-life: 24 months
Recipe: Pure butter. Over 45% fruit.
No artificial colours or flavours.
Classic English Fruit Cake flavoured with
Jamaican Rum
Packaging: Vacuum-sealed tin with ring-pull, packed inside elegant gift box.
Pack Sizes: 6 x 280g, 6 x 700g
Storage: Ambient
Shelf-life: 24 months
Recipe: Pure butter. Over 45% fruit.
No artificial colours or flavours.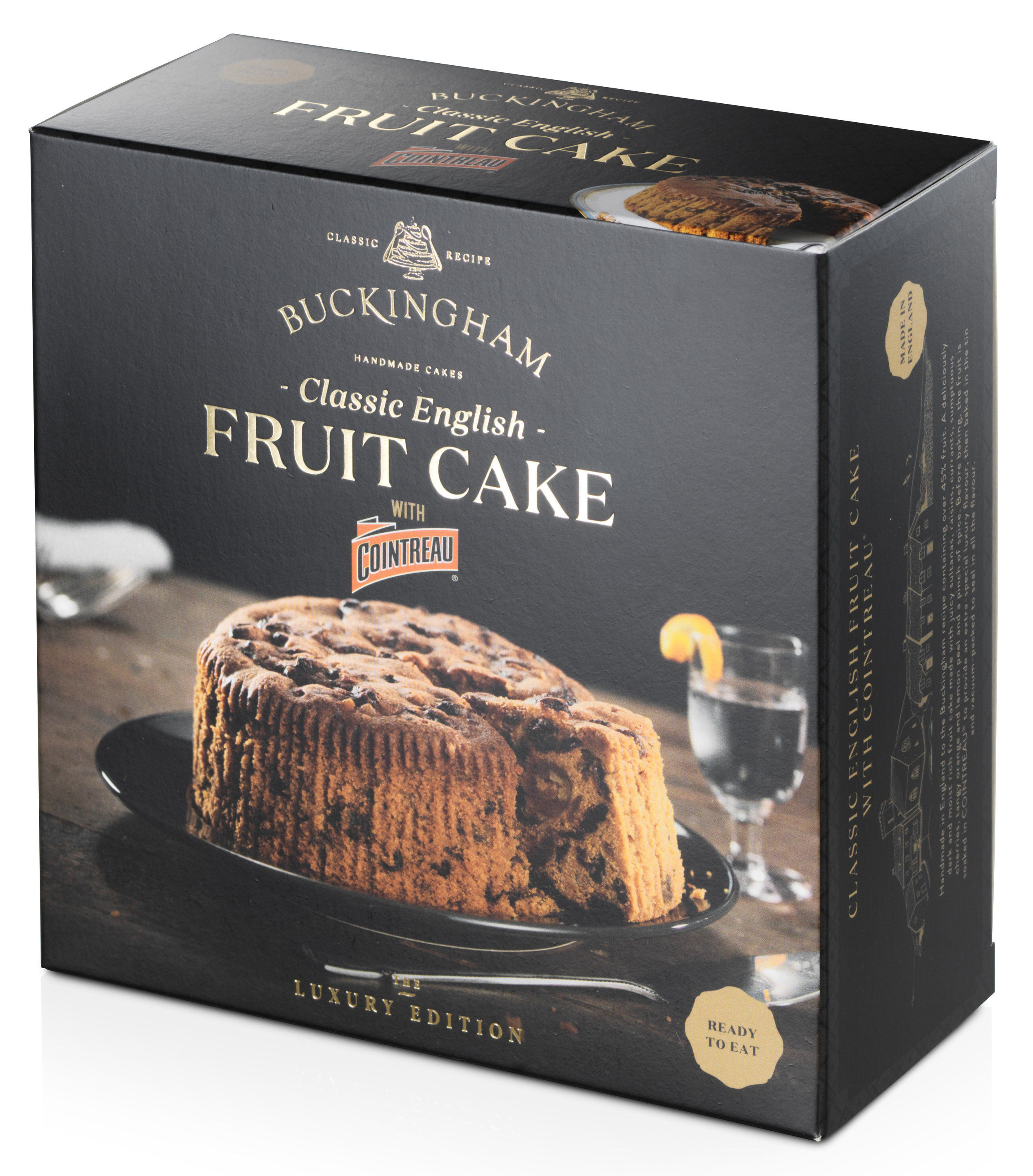 Classic English Fruit Cake flavoured with
Cointreau® Liqueur
Packaging: Vacuum-sealed tin with ring-pull, packed inside elegant gift box.
Pack Sizes: 6 x 280g, 6 x 700g
Storage: Ambient
Shelf-life: 24 months
Recipe: Pure butter. Over 45% fruit.
No artificial colours or flavours.
for convenience
Slices of Buckingham® classic English fruit cake, cello-wrapped for eating as a delicious snack.
Ideal for eating with tea or coffee. Beautifully presented in a display box for impulse sales.
Fruit Cake Slices
Classic Buckingham® recipe
Packaging: 75g slices. Cello-wrapped.
Pack Size: 24 x 75g in display box (two display boxes per shipping carton).
Storage: Ambient
Shelf-life: 12 months
Recipe: Pure butter. Over 45% fruit.
No artificial colours or flavours.
Nothing compares TO AN AUTHENTIC English Teatime
Originally called 'plum cake' the origins of fruit cake in England date back to the 16th century. Richly flavoured, it is made with a mix of dried grapes (sultanas, currants and raisins), candied or glace fruits (typically cherries, orange and lemon peel), flour, eggs, butter and brown sugar.
In England, fruit cake remains very popular all year round to eat with 'afternoon tea' – a tradition still observed by many English families, at home or in teashops and restaurants. English people often make a fruit cake several months before Christmas, which gives it time to mature for the festival in December. Fruit Cake matures like a good cheese, its flavour improving with age.
The Buckingham® recipe dates back to 1890. The cake is hand made, still following the original recipe and using no artificial colours or flavours.
It will always be cheaper to buy Buckingham cakes locally but if you don't have a local distributor then the cakes can be mailed to you from the UK. The cakes are mailed to dozens of different countries around the world. Orders are processed online at - www.TheGiftofCake.com - Due to customs regulations it's not possible to mail to all countries but please check this out at:
Our English cakes can be delivered anywhere in the world in perfect condition.
We are currently focusing on supplying to China, South East Asia and the Middle East. We have recently appointed distributors in Australia, Russia and Mexico. We are also talking to importers in South America, India and South Africa. We welcome enquiries from these and other markets.
We can ship to most countries and supply labels in different languages to suit local requirements.
We only supply to importers, distributors and large retail groups.
English fruit cake is coming to the food-lovers of Brazil. We are excited to start working with a leading distributor based in the beautiful coastal city of Vila Velha in the state of Espírito Santo (north of Rio). Their first order will arrive in September. We're looking forward to the cakes being established in Brazil's luxury food market.
Printed at last!
Our new 'Luxury Edition' box packaging finally arrives and we're thrilled with it. The quality is superb. Beautifully printed with the addition of gold foil lettering. It shouts luxury and specialness. The packaging does justice to the sophisticated flavour of the cakes, with recipes containing a minimum 5% added spirit/liqueur. This truly is unparalleled fruit cake luxury!
Proofs of the new packaging arrive at our office. These are the culmination of three months work which started at ISM where we showed the concept of putting the tins inside beautiful cartons to enhance their gift appeal. The response was overwhelmingly positive and the final designs are looking very luxurious!
Our newly updated canning machines arrive at the bakery. We have two of these (one for each size of tin). Manufactured in stainless steel throughout. They are amazingly clever because they pull a vacuum on each tin. This removes the air from the tin and greatly enhances the shelf life of the cake. The vacuum pump is calibrated so that we can finely adjust the vacuum to exactly the right degree.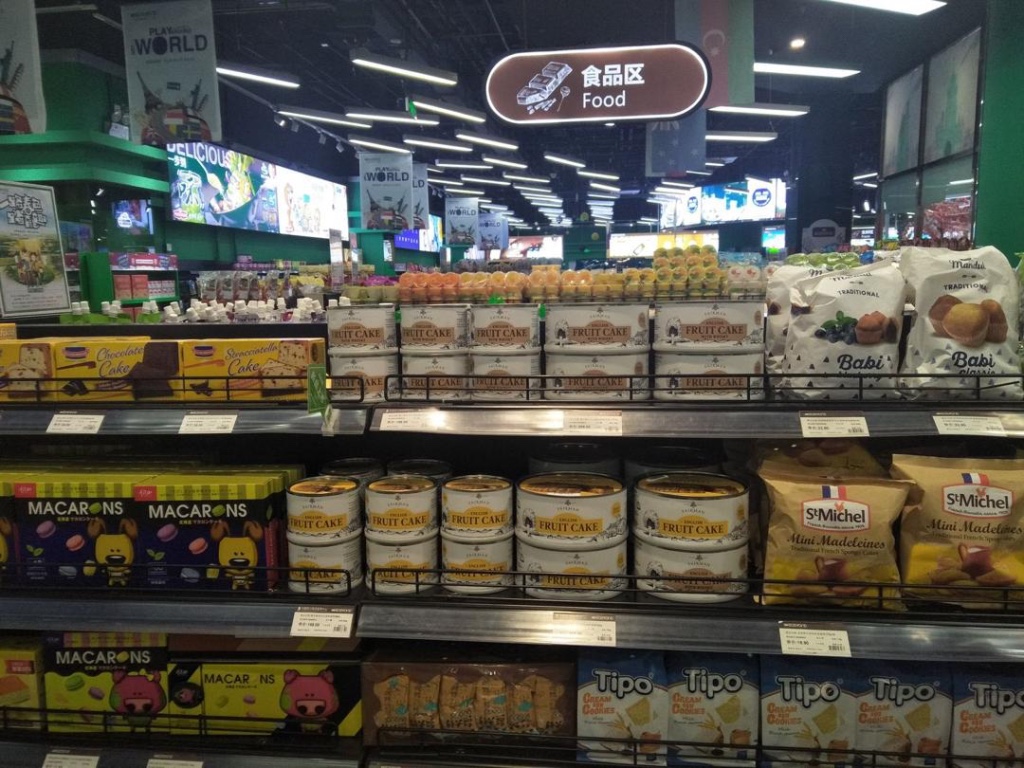 Our Chinese importer sends photos of the cakes on sale in some premium stores in Beijing. The cakes are under the 'Fairman' brand which is the trademark we have registered in China. We eagerly anticipate the launch of a Chinese website for Fairman Cakes, hosted in China which should go 'live' next month.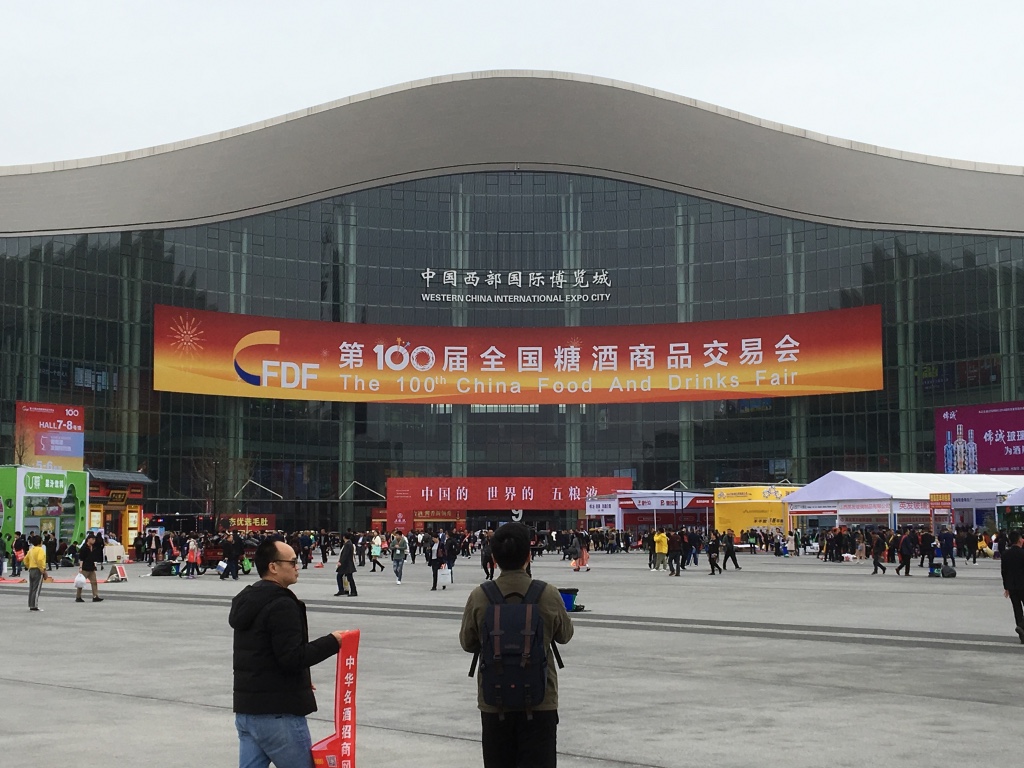 We visit the enormous CFDF (China Food & Drink Fair) in Chengdu to see our cakes being exhibited by our Chinese importer. It's an enormous show and it gave us a fascinating insight into the Chinese market.
The concept of cello-wrapped fruit cake slices was very well received at the ISM show in January and the packaging has now been mocked up with a view to launching in the summer. Due to the crumbly texture of fruit cake, cutting the slices cleanly is a major challenge. The solution is an ultrasonic cutter, which cuts so neatly that it has to be seen to be believed. The new packaging will be printed in May ready for a full launch in June. This is exciting as it provides a 'snack' version of our cake for the convenience market.
One of the ideas we follow up on after ISM is cakes favoured with famous name alcohols. We do a test baking with the very distinctive Laphroaig® Islay Single Malt Whisky. This whisky has a strong smoked peat flavour. It certainly made a fruit cake with an 'interesting' taste. We mock up some packaging and ask some clients to try it. Watch this space…
We have a very successful ISM exhibition in Cologne, meeting existing distributors and many prospective new distributors from all over the world.
We're busy preparing for the ISM in Cologne, Germany, 27-30 January 2019. ISM is the world's largest trade fair for confectionery and bakery. We are exhibiting in Hall 5.2 Stand B12. Please visit us, taste our products and sample the exciting new range of cakes we're launching in 2019. We look forward to meeting you and welcoming you to the home of classic English fruit cakes.
Our fruit cake provides the basis for traditional 'Christmas Cake' with the addition of a coating of marzipan, topped off with a layer of finest royal icing. The centrepiece for a Christmas celebration. Handmade perfection, and absolutely delicious!
This month we received our first order for delivery to Eastern Europe - from a company based in Lithuania, selling corporate food gifts. http://www.pinkpistachio.lt They have developed much interest in the cakes. The Baltic region had not been a target market for us but we are encouraged by the response and plan to grow sales in this region in 2019.
We are frequently asked whether our fruit cakes are available online. The cakes work well for online sales because they have a long shelf life and the tins are very resilient in postal systems. We encourage our distributors to supply local markets online and many do this. But to help consumers who don't have a local distributor we have teamed up with our UK sister business The Gift of Cake, an online store specialized in mailing gift-wrapped cakes as delicious presents. https://www.thegiftofcake.com
We've shipped Buckingham cakes to China before but we have now registered 'Fairman' as our trademark in China. This month sees our first shipment of 'Fairman' fruit cakes leave the UK destined for our distributor in Beijing. There'll be more news on this later in the year.
After much research and testing, we believe that by making some small changes to our production process we can extend the shelf life of the cakes. We are confident that this will allow us to apply a 24 month date marking. We've had some tests done by an independent laboratory this month and so far the results have been good. Testing will continue next month.
To celebrate Queen Elizabeth's 92nd birthday the British High Commission in Singapore held a party on the 21st June. Buckingham cakes were pleased to be invited to provide fruit cake for the party. We thank Richoco Pte Ltd, our exclusive distributor in Singapore, for helping arrange supplies of the cakes.
Our fruit cake with Scottish whisky is a firm favourite and we're frequently asked for versions with rum and also with brandy. We're starting with the brandy. Launched this month, a special edition of our classic celebration cake liberally laced with finest French brandy. What better way to celebrate in style!
Latin America is a massive market which we haven't tackled yet. But we think Mexico is a good starting point. Mexico has a population of 120 million and a track record of strong growth in its economy. Our newly appointed distributor has been established for over 10 years, is based in Mexico City and handles other UK brands. We're looking forward to celebrating our first shipment with a Tequila on ice!
We've undertaken new photography and improved the definition of our lid design.
Printing on metal is a highly skilled business. Initially the printing is done on flat sheets of steel as shown in this photo, and then the lids are punched out of the sheets by a separate process which prepares them ready for seaming onto the tins. The finished lids are very high quality and look fantastic.
Russia has a great appreciation of cakes and is rightly proud of its many excellent bakeries. After our visit to Moscow last year… and with the help of Albion (Overseas) Ltd https://www.albionoverseas.com a consultancy who specialise in introducing UK products to the Russian market, we have this month appointed a distributor for Russia.
News from Hong Kong. We're pleased to report that our fruit cakes are now being enjoyed at the famous Hong Kong Country Club. Established in 1961 to be Hong Kong's most cosmopolitan club, its beautiful grounds cover over two hectares and host several recreational facilities and restaurants. We're proud to be part of their success story.
We have been working with New English Teas (see their website here) to develop a gift pack of tea and cake. The beautifully packaged combination will make it possible for food lovers all over the world to enjoy fruit cake and tea - the authentic experience of traditional 'English Afternoon Tea'. We expect to launch the new pack in February 2018.
We visit Moscow to explore the market for fruit cakes and short-list potential Russian distributors. The older part of central Moscow is beautiful and buzzing with activity. The Russian Federation is a massive nation (the world's largest) with vast distances between the major population centres. There are many big challenges ahead, nevertheless, we are excited at the prospect of launching our cakes in this fascinating country.
Our Australian distributor prepares for Christmas and features Buckingham cakes in the window display of the Simon Johnson store in Perth. One of the superb quality Simon Johnson shops which are Australia's premier group of fine food and delicatessen stores.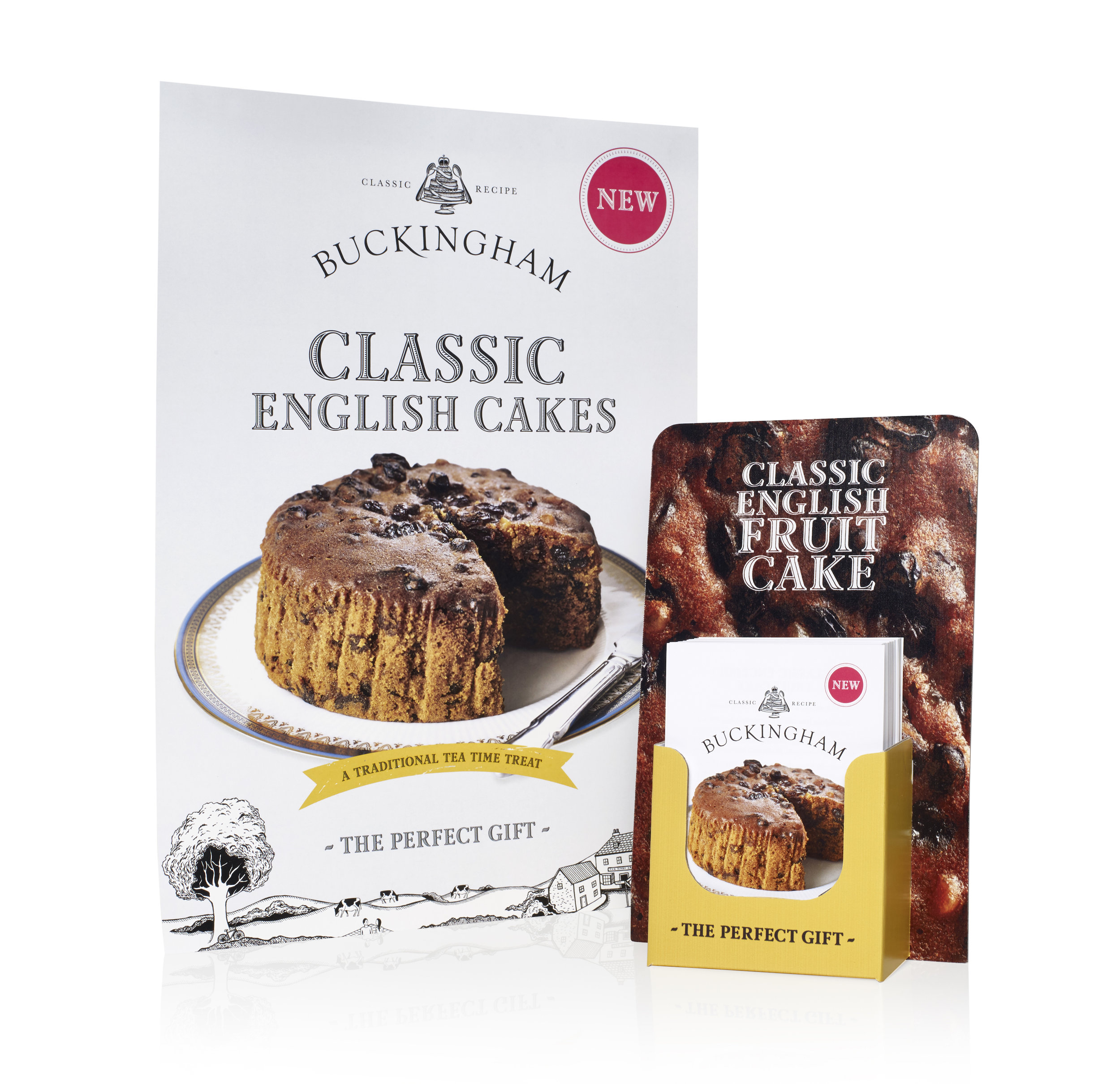 The new POS (point-of-sale) marketing material has been praised by many of our retailers. The full-colour leaflet dispensers (170x260mm) are beautifully printed and designed to hold 250 of our new style A6 (105x148mm) consumer leaflets which promote the cakes as 'the perfect gift'. To complement these we also have smart new posters in A3 size (300x420mm).
When the British polar explorer Robert Scott led his famous second expedition to the Antarctic in 1910 (he perished there in 1912) the team took with them a supply of English fruit cake. It is reported this month in The New York Times that the fruit cake has been found inside an old building in Antarctica used by the expedition in 1911, the cake still wrapped in paper in its original tin 'looks and smells edible'. At over a hundred years old, is it the world's oldest fruit cake? Read the whole story here.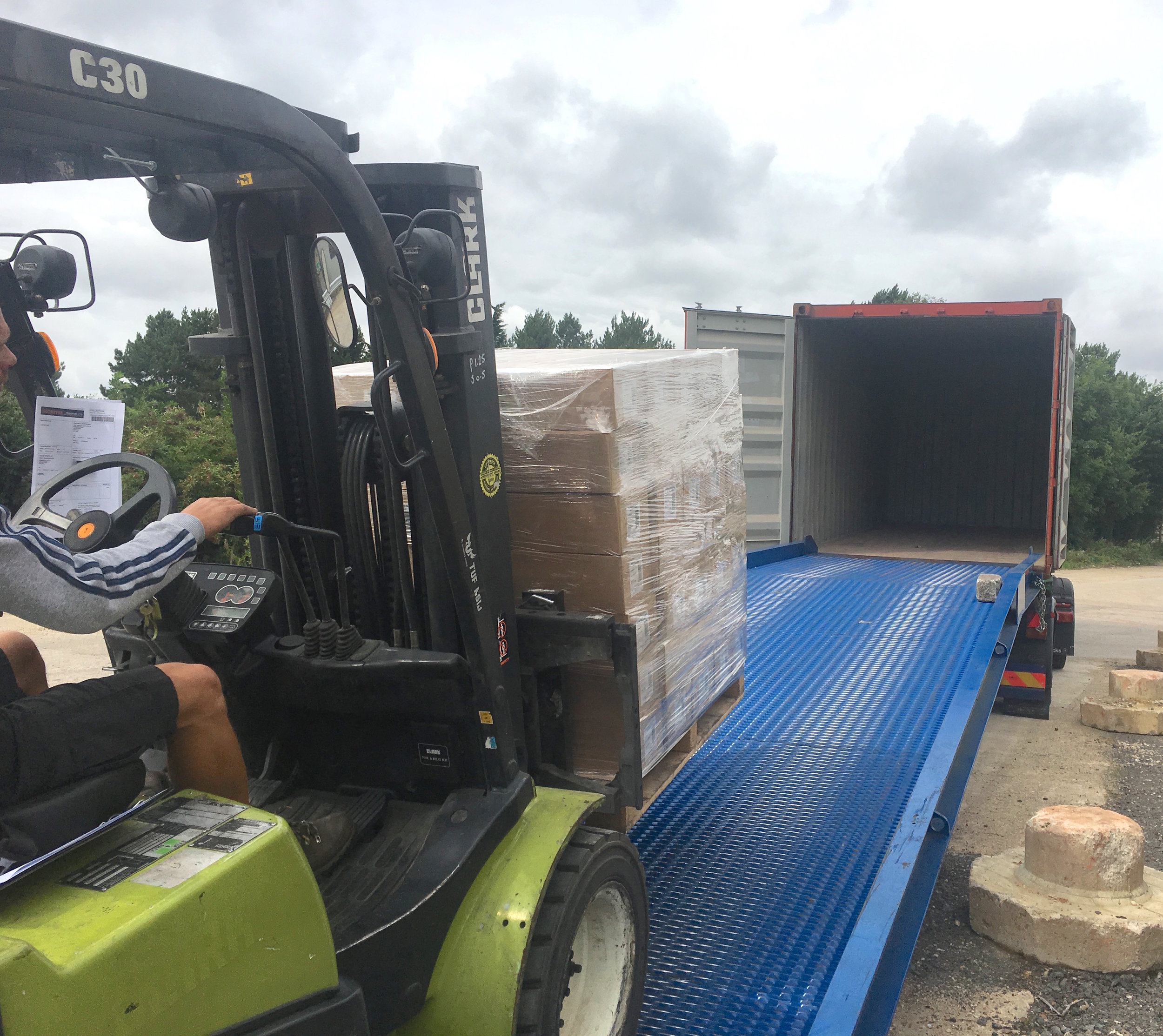 July 2017
We are excited to start working with a top quality importer and distributor in South Korea. Our first order for the Seoul-based company is loaded into the shipping container on a typical British summer's day (grey and cold) before starting its 32 day journey from Port Felixstowe to Port Busan. The cakes have special labels with Korean translation.
June 2017
A happy consumer in Malaysia posts much praise for the cakes online, saying: "Buckingham cakes are the world's best and most delicious fruit cakes" with the recommendation to always buy two cakes as "sharing the cake sure leads to trouble scrambling for the last piece". The photo shows the cakes being offered to Kuan Yin, Goddess of Mercy, before being consumed.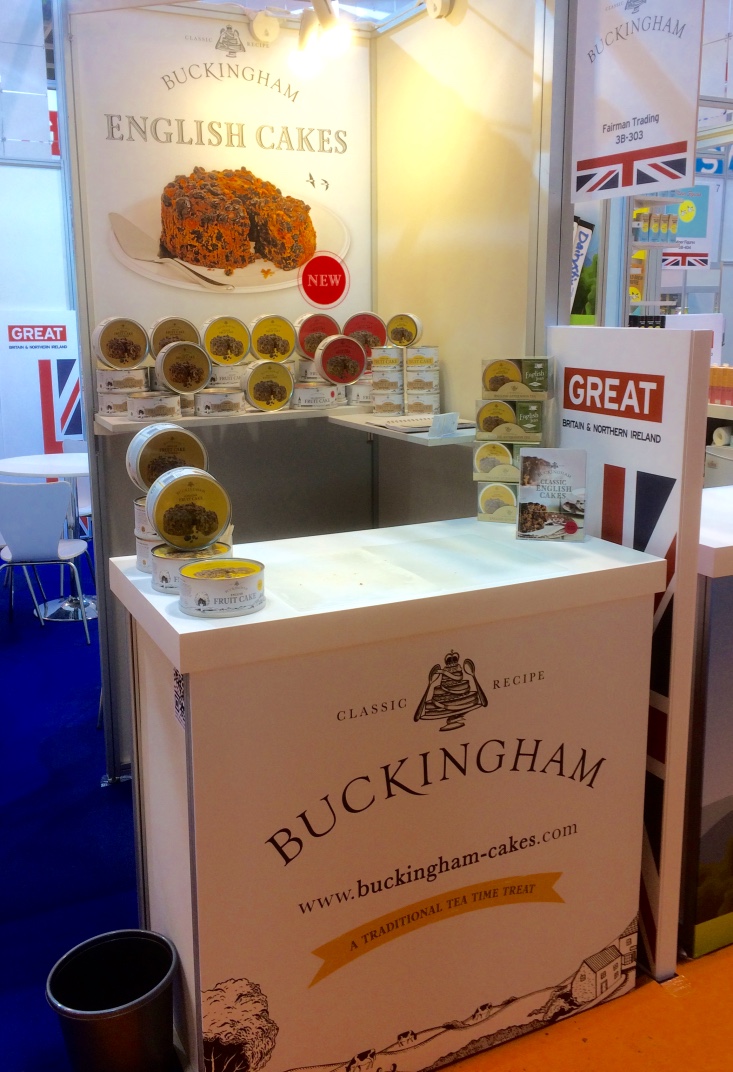 May 2017
This month we are excited to be exhibiting at HOFEX, the major international trade show in Hong Kong; a hub for food buyers from China and nations across South East Asia. We were proud to be part of the British pavilion. Hundreds of visitors tasted our cakes and universally praised them for their delicious flavour and strong packaging. We are always pleased to hear how many people across the world are aware of 'English Afternoon Tea' complemented with fruit cake (of course), the most traditional of all English cakes.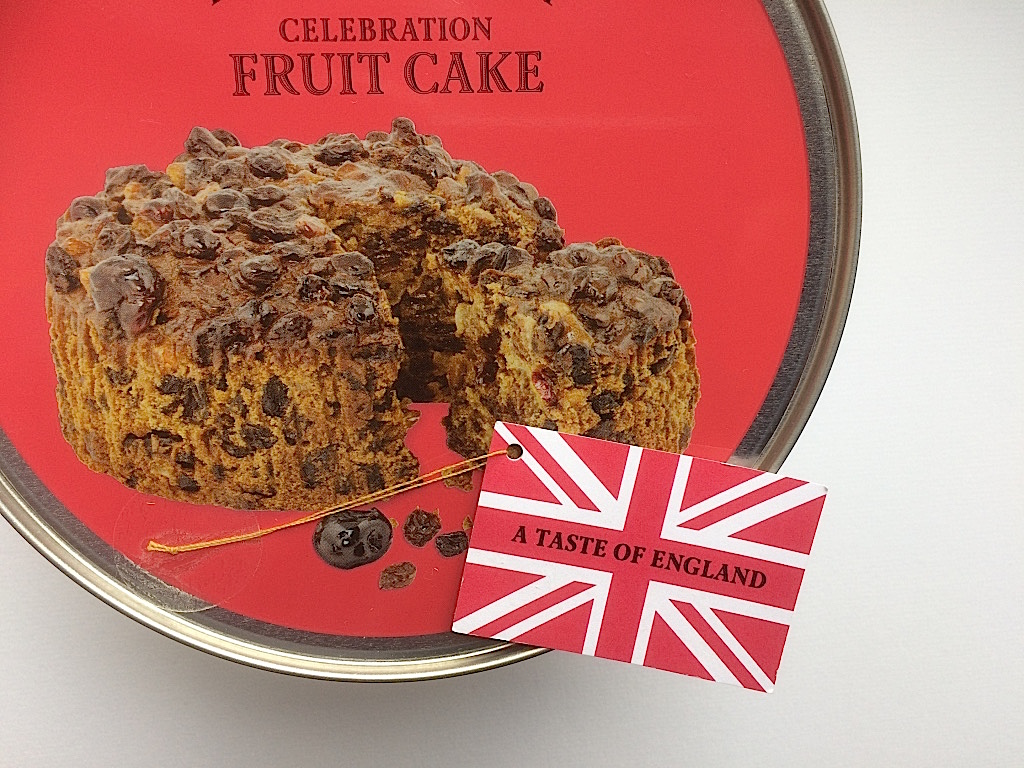 Gift tags. Another development. Small but very useful. The reverse of the tag provides space for a message "to" and 'from". This makes the cakes into a personalised ready-made gift. We're now offering this as an option on the 700g tins.
This month we've been on a fact-finding visit to New Delhi, the capital of India, to meet with prospective importers and look at India's retail scene for premium European foods. We also visited Mumbai. A fascinating and very enlightening trip.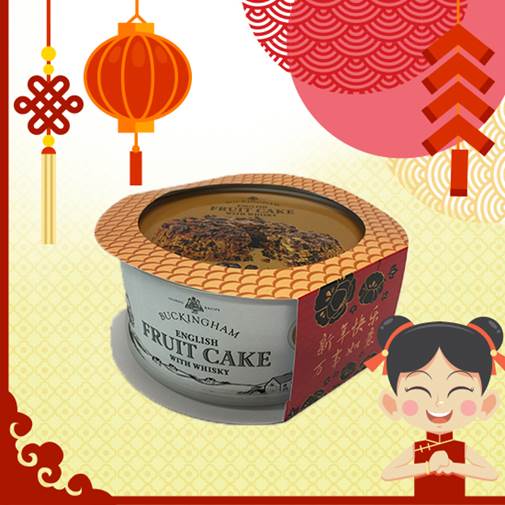 Our distributor in Singapore (Richoco Pte Ltd) do a wonderful job providing special packaging for Chinese New Year.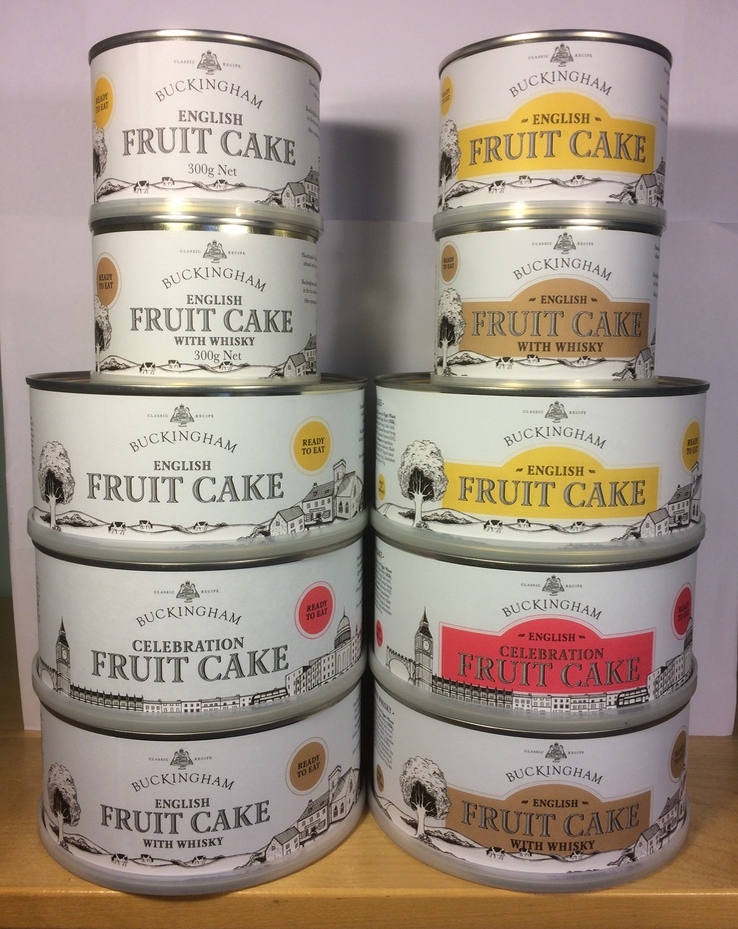 We have been experimenting with adding colour panels to the labels. The aim is to improve differentiation on the shelf when the coloured lids are hidden. (The tins on the left are current labels. The tins on the right are the new prototypes).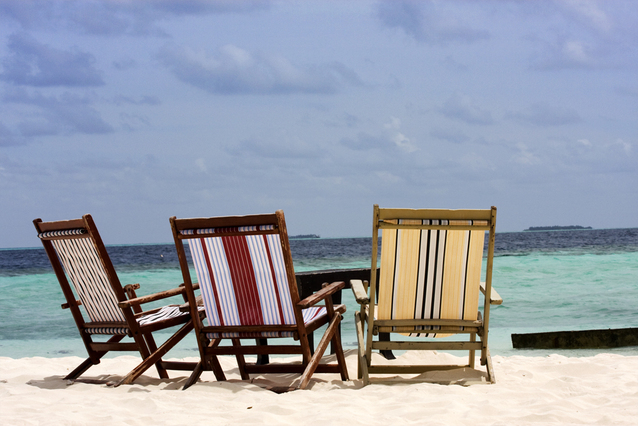 It's freezing in the UK but we're warmed by the thought that our first shipment to the Maldives will arrive in sunnier climes this month. We wish we were there to unload it...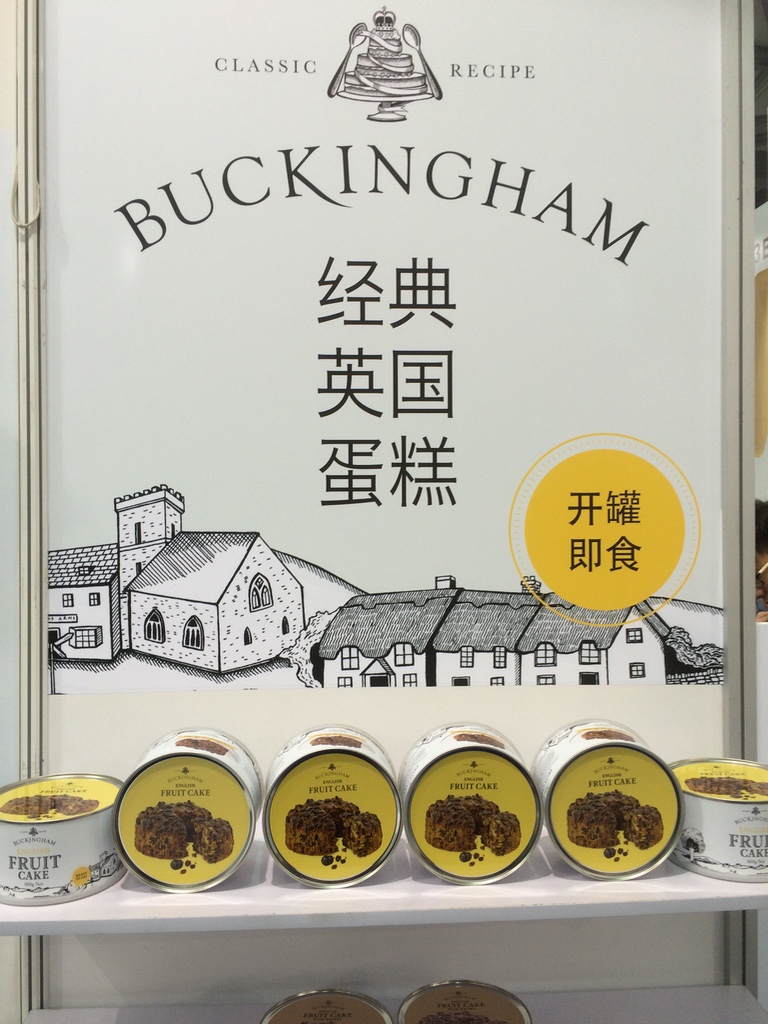 We visited China this month to meet with prospective distributors in Shanghai. We find China has a strong tea-drinking culture and appreciates the concept of 'English Afternoon Tea' accompanied by traditional English fruit cake. Screenings of Downton Abbey suggest every English home has a butler...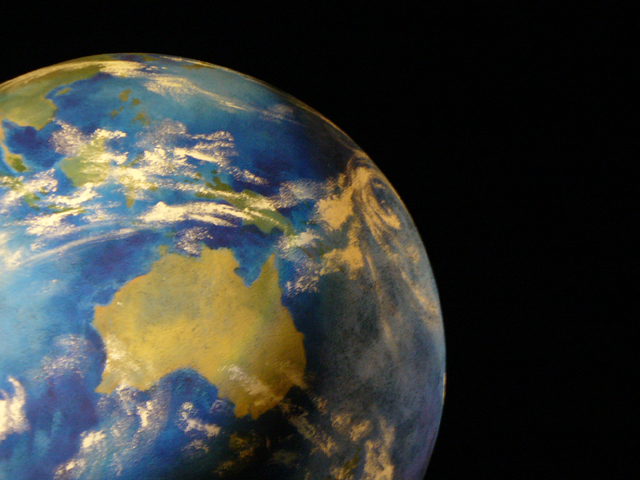 Buckingham fruit cake sets off on its longest journey yet - our first shipment to Australia. Hopefully it arrives in time for Christmas.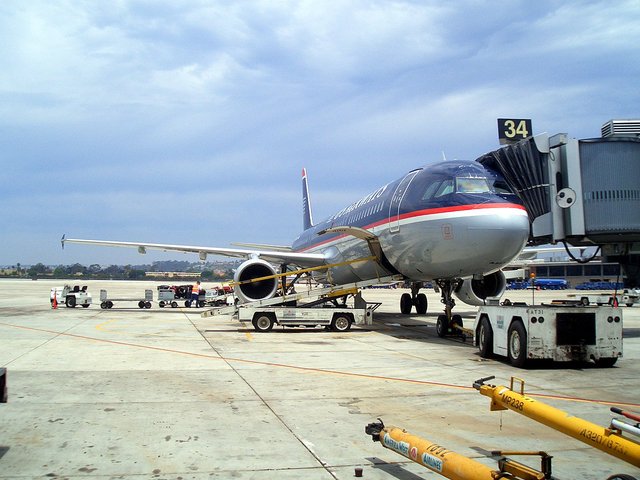 We're spreading our wings... shipments left the UK this month bound for three new clients in Dubai (United Arab Emirates), Kuala Lumpur (Malaysia) and Doha (Qatar). The order for Qatar goes by air freight which is a first for us.
Earlier this year our production was held up by labelling problems but better machinery is being used from this month. We're pleased to report the problems are resolved and our capacity has been increased.
We experiment with Chinese labels.
This month we also make our first shipment to Singapore.
Buckingham cakes with Arabic labels, complete with the Halal logo.
This month we receive our first order from Bahrain.
We are pleased to announce that Buckingham cakes have received Halal certification.
Our stand was extremely busy when we exhibited at the FHA exhibition in Singapore.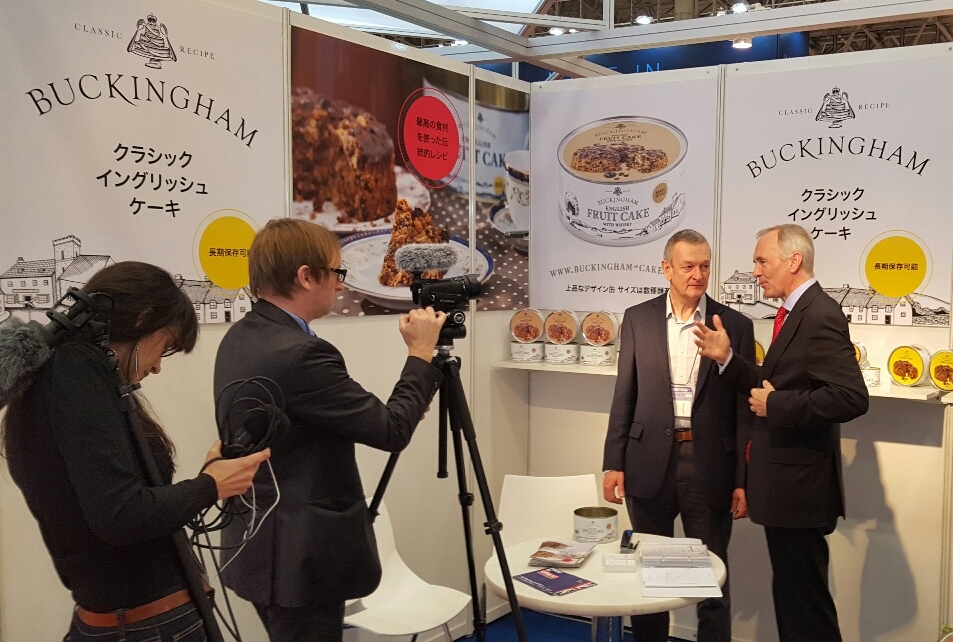 Buckingham fruit cakes reach Japan. We exhibited at the Foodex exhibition in Tokyo and received a visit from the British Ambassador for a video interview. See the interview on YouTube here.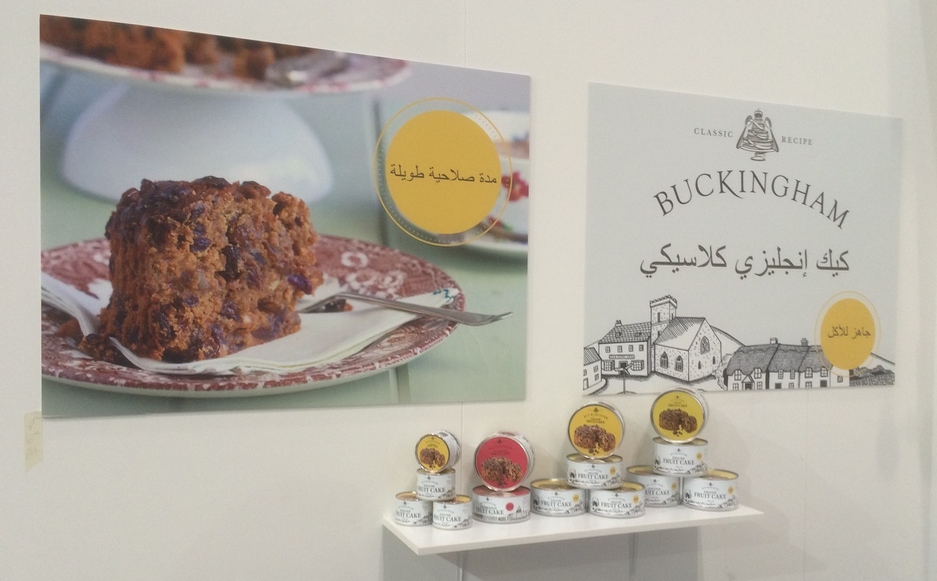 We exhibited at the 'Gulfood' exhibition in Dubai. Visitors from the Gulf countries loved our fruit cake and some said it had more flavour than the Arab cakes made only with dates.
Vacuum-packing fruit cake in tins is not a new concept. We have a tin of Harrods fruit cake from the 1980's and it looks to be still in good condition. The cake will certainly have matured...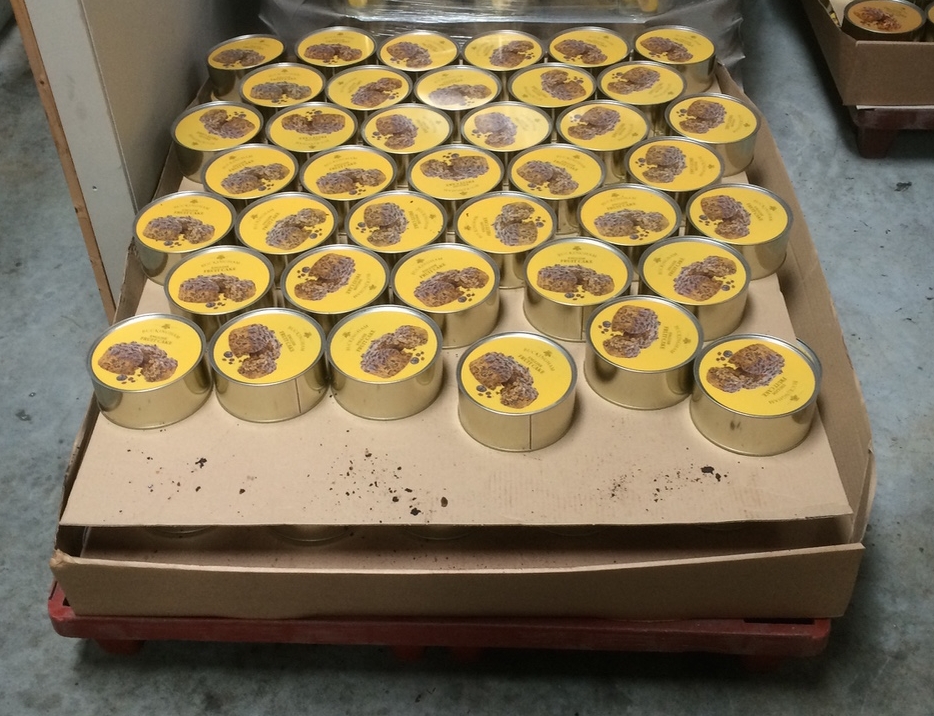 December 2015
We're excited. This is a big moment. All our test runs are complete and we're ready for full scale production. Our first batch of Buckingham fruit cakes comes out of the oven and is left to cool before labelling.

...In the 1700's the cake was traditionally baked at the end of the harvest. It was said to bring good luck if the cake wasn't eaten until the beginning of the following harvest.
 
...In the 1800's eating fruit cake was banned for a while because it was considered 'sinful' being too rich and delicious.
 
...Fruit cake is loved by British royalty. When Queen Victoria married in 1840 her wedding cake was a huge fruit cake. More recently, Prince Charles and Lady Diana had fruit cake at their wedding in 1981.
 
...Prince William and Kate also celebrated with fruit cake when they married in 2011.
 
...American astronauts took a slice of fruit cake with them on the Apollo 11 spacecraft for the first landing on the moon in 1969.
For importers, distributors and large retail groups:
Phone: +44 (0)1225 867802 or +44 (0)7789 993579
Write to: PO Box 5205, Bradford on Avon, BA15 5BU, UK.
If your company is an experienced importer and distributor of gourmet European foods and you would like to sell Buckingham Cakes then please contact us.